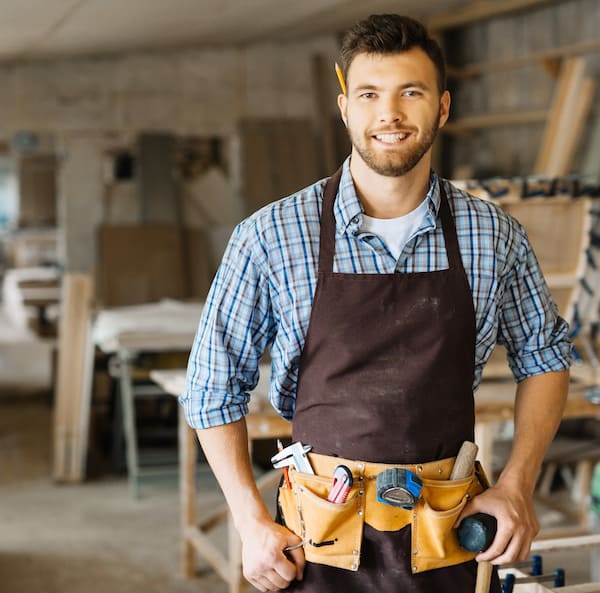 Talk about home contractors can conjure up images of total remodels, drastic renovations and significant additions. However, contractors aren't limited by type of project or restricted to projects of a certain size.
Simply put, a contractor's role is to be the point of contact which organizes any home improvement project. A contractor applies for permits, locates subcontractors, orders supplies and handles day-to-day supervision, among other necessary tasks. That level of management may be just as necessary for "smaller" jobs, such as making improvements to a half-bath or converting a closet into a mudroom, as it is for a complete basement remodeling project or building a deck.
While it may not seem like hiring a contractor is necessary for a small-scale project – those jobs may be more befitting a reliable handyman – hiring a contractor could provide distinct advantages which can ensure that your project is completed on time and of excellent quality. In some cases, it may even be required by law to hire a home contractor for your small job.
Deciding if you need a home contractor
When you begin your search, look for "home contractors" or "general contractors." There are "specialty contractors" as well, but they have special training in plumbing, carpentry or another skill which needs extensive experience.
On the surface, it may seem like overkill to hire a home contractor for a job that will only take a weekend's worth of time. However, it's not about the size or length of the project – it's the type of project you're undergoing which should be your deciding factor.
Before moving forward, review what you'd like to accomplish and take stock of what you need to get there. Ask yourself:
What's the scope of the project? Many smaller projects are actually more complicated than they seem on the surface. Sometimes, that's because the job involves more than one professional, such as a plumber and a painter or an electrician and a carpenter. A contractor's experience, connections and leverage with fellow home improvement professionals can be just the point person you need to ensure that all wheels are moving in the same direction.
Do you have time to manage your project? It doesn't matter if your home improvement project is a small undertaking on paper. If your day-to-day life is too demanding to stay on top of all your project's moving parts, your plan for a quick and easy facelift may go unfinished for weeks or months. A general contractor may be the best way to ensure that your project is actually completed in a timely manner, especially if you're honest with the limitations in your daily schedule.
What does the law say? Laws regulating home improvement vary from state to state. Some states require that any job which meets a certain dollar figure needs to be performed by someone who holds a contractors' license. In New York State, home contractors are regulated on the local level, while Connecticut has statewide regulations. Check with your local body which requirements apply to your project. (It is extremely important to make sure that your professional is properly licensed and insured as well.)
When is it better to use home contractors?
Much of your decision to hire a home contractor may be influenced by local requirements, but no decision should be made without consulting the reality on the ground. Do you want to spend time managing multiple, complicated parts? Do you have a true understanding of just how much, and what type, of work is required to complete your small job? You may want to consider erring on the side of caution and hiring a home contractor if:
You're unfamiliar with the territory you're wading into. Do you know if you need a permit for your project? Do you know how to apply for a permit? Would you honestly rather just leave it to someone else?
Your project requires more than one professional. A homeowner could reasonably manage one handyman on a small or large project. However, managing schedules, payments, permits and/or supplies for multiple professionals is way more time-consuming than hiring a single handyman.
On the surface, it may seem overwhelming to go from assuming you don't need a contractor to hiring one. At the end of the day, though, using a home contractor will simplify your small home improvement project. Home contractors aren't just skilled handymen; they're well-organized managers who keep your small job on schedule. That means you'll get to enjoy your new mudroom in days rather than in weeks. Not sure if you need a handyman or a contractor? Schedule a free consult with us and we're happy to help.