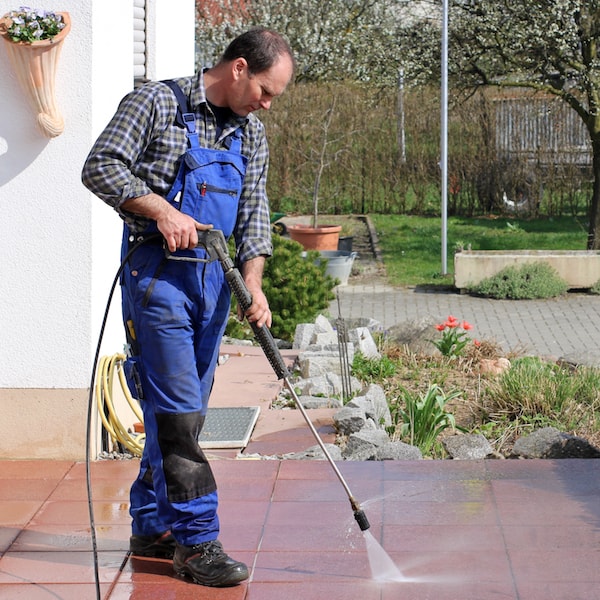 How often do you think about the siding and exteriors of your home? If you're like most homeowners, the answer is "hardly at all." Unless something happens to your siding, like wood rot, hail damage or paint chipping, you probably haven't thought about it in some time. We also tend to overlook our exterior windows and driveways, as they're not part of our regular cleaning or maintenance routines.
But every home's exterior needs some TLC to remain clean and beautiful. It's important to clean your siding, windows, gutters, and concrete at least once a year. Without it, the exteriors of your home may be compromised, resulting in expensive repairs and/or renovations.
Soaps and cleaners won't make a dent in this grime, so many turn to power washing, also known as pressure washing, to bring their homes back to sparkling status. Trained and experienced professionals who are well-versed in the personal and work site safety protocol associated with this powerful tool, will blast away the filth once and for all.
What Does Power Washing Do?
When you think of "power washing," you might imagine a fireman's hose shooting at your house. That sort of water power can do more damage than good, which is why professionals know better than to use a high-powered water gun. Instead, they use a semi-powerful hose that feeds from a tank of special soap created just for home exteriors and siding.
The power of the water combined with the ingredients in the cleaning agent will:
Break up dirt and grime
Kill mold, mildew and algae
Knock down leaves, grass and bug nests
Save siding and windows from high-powered water damage
The power of the water isn't designed to blast every little thing off your property, but rather to help access higher points of your house that you can't reach safely. The special detergent does the rest!
Why Should You Schedule an pre-Winter Power Washing?
Most people assume that the best time to tackle power washing is during spring cleaning, but virtually any time where there isn't snow on the ground is perfectly fine for professional power washing services for several reasons:
Newly-washed surfaces can dry thoroughly. The cleaning and debris removal won't be as effective if moisture settles, freezes or seeps into crevices, but as long as the temperature hasn't dipped into the 30s, it will still be effective.
Most seasonal exposure to heat, rain and other elements is behind you. Once fall arrives, the weather has settled a little and you will likely not experience a major weather event until winter.
There is still time to address concerns. Sometimes, exterior cleaning exposes issues such as paint chips or roof damage. There is still time to fix these items before the weather gets cold for home maintenance professionals to work comfortably. Wait any longer and you may have to wait until the spring – and risk a small problem turning into a larger one.
Power washing in winter is less effective. Would you want to mop your floors before you let muddy dogs in? No! That's what exterior washing will do during the winter. Snow and ice prevent siding, windows, and concrete from staying clean for long.
Power washing right before winter rolls around ensures that your property is thoroughly cleaned and washed. If you wait past this prime window, you risk debris, mold and stain buildup. It gets harder to clean and remove these elements as the temperature drops, so a cleaning right at the cusp of autumn allows for maximum efficiency and enjoyment of your freshly-washed home. Learn more about how HomeSquare's home maintenance professionals can service your home, or request a free estimate for power washing your property.