by guest author Katie Canfield
More than ever storage has become the number 1 priority in kitchen design. Kitchen cabinet organization can make or break your cooking experience, from at-your-fingertip spice arrangement to finding a spot for that twice-a-year roasting pan.  Last week I headed to KBIS in Orlando, the country's biggest kitchen and bath show, to see the latest and greatest in kitchen innovations.  If you love the style of your cabinets and they are in good condition, you can still transform your kitchen with storage and organization inserts that can be installed in your existing cabinets.  It's an inexpensive way to give your kitchen and your cooking experience a huge boost in functionality.
Corner Cabinets
Corners can be one of the trickiest spots in the kitchen!  When cabinets meet at a 90 degree angle, they create a dead corner with hard-to-access but priceless square footage.  For a long time we looked to the trusted Lazy Susan for help, to swivel around and pull items from the back to be within reach.  Thanks to German engineering meet my two BFFs: LeMans and the Magic Corner, both from Hafele!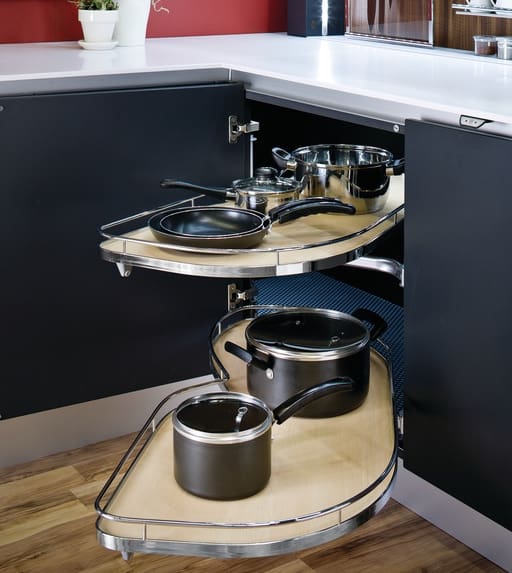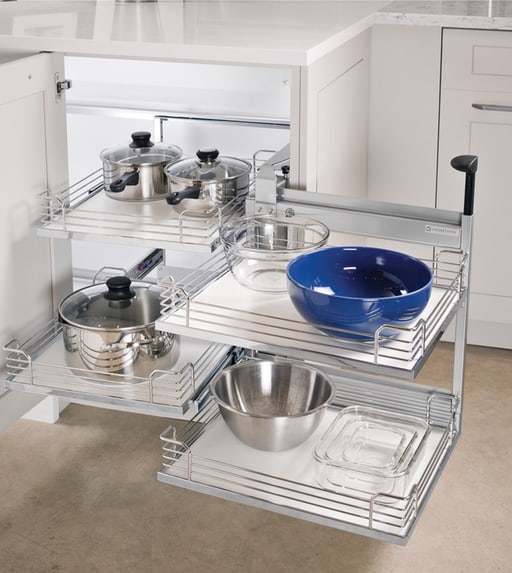 The LeMans has a unique bean shape that swivels to bring out the entire contents of your corner space for easy access.  The Magic Corner is a similar idea: two square trays, that can be manually pulled out or mounted to the cabinet door.  Easily store your big pots or slow cookers out of the way, but they are still easily accessible for everyday use.
Spice Storage
Are you constantly scrambling to find the spice you need quickly and easily while at the stove?  What about the avalanche of little bottles when you have to rummage to get something in the back?  No matter what your preference, there is a spice organization option for you!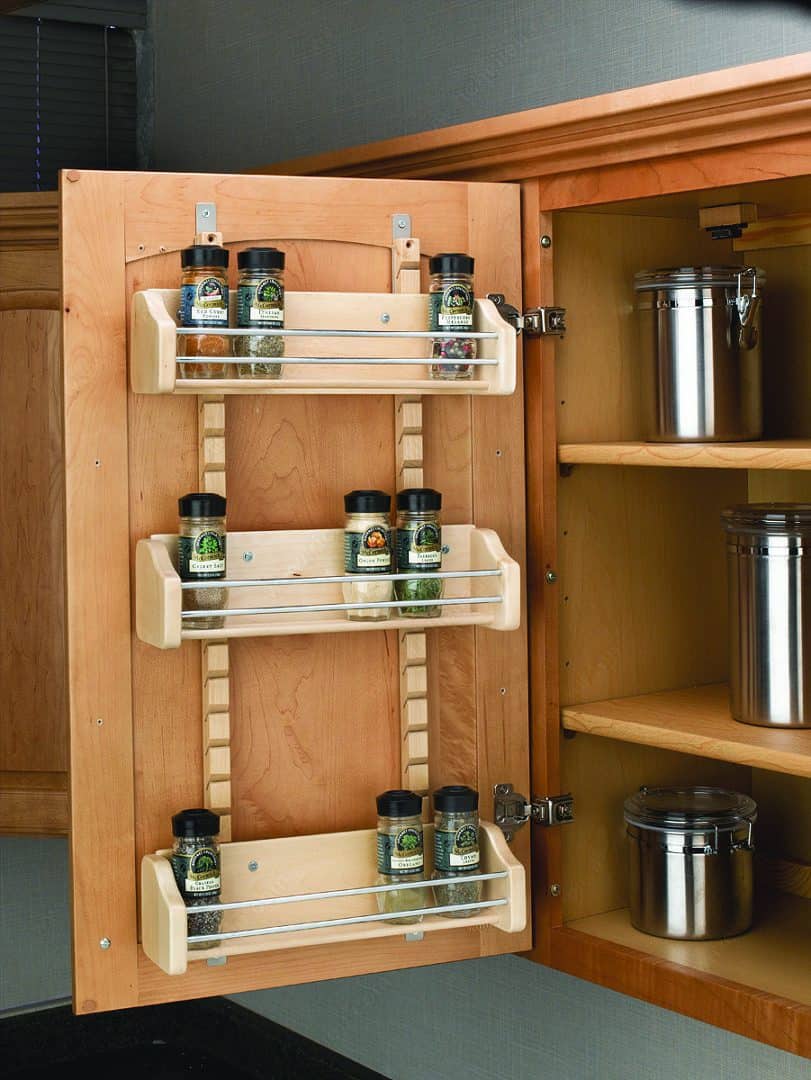 Add a door mounted spice rack to the back of one of your upper cabinet doors. With these racks, you can easily see all the labels and grab one without knocking anything over.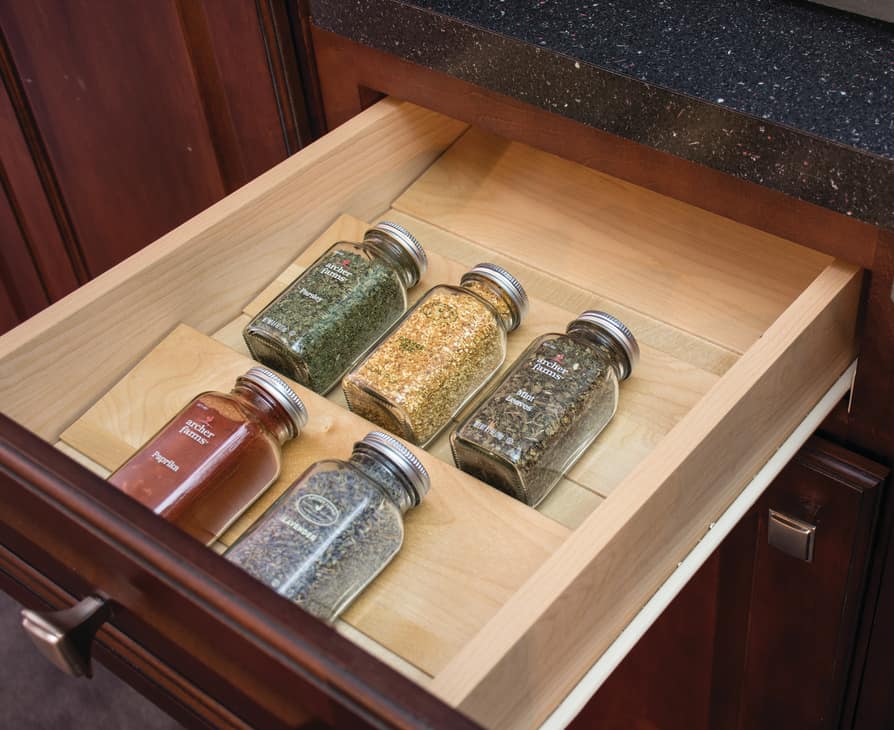 Try a drawer insert if you have trouble reaching or reading the labels in the upper cabinets. Here your spices are arranged flat but angled to keep them in position and make them easy to see.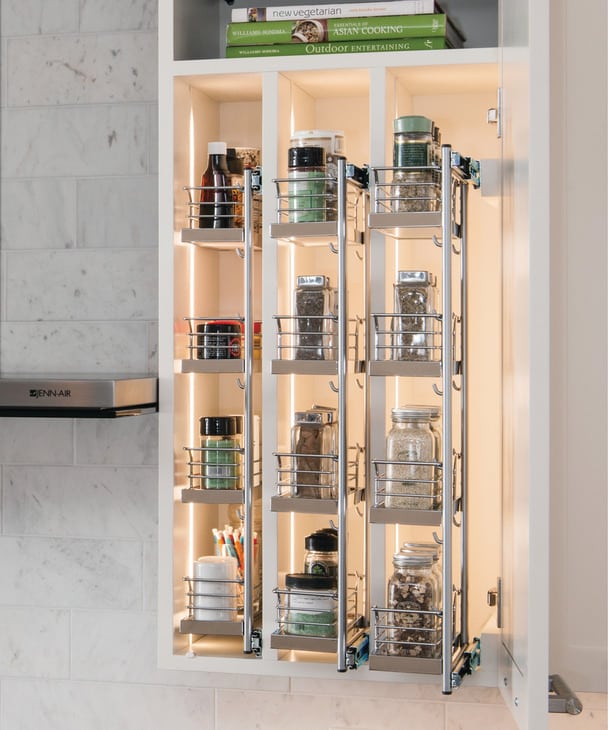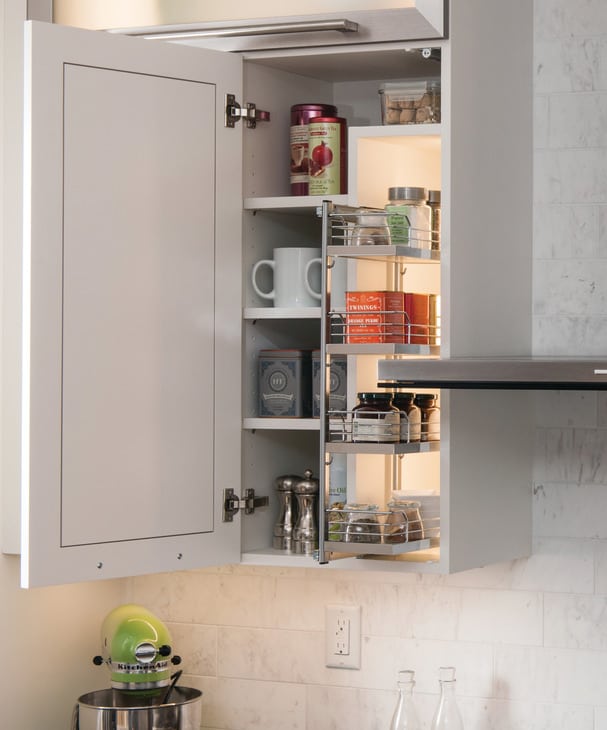 Or consider a pull out unit in your upper or lower cabinet with shelves so you can pull the entire contents of the cabinet out to see everything and quickly pull something from the back.
Pots and Pans
Do you hate the racket you make while trying to get the pots and pans you need out of your cabinets?  Do you have trouble peering inside a cabinet and bending over trying to get what you need out?  Fear not, there are SO many options to make organizing and accessing your cabinets nice and easy.  Voila, no more metal banging!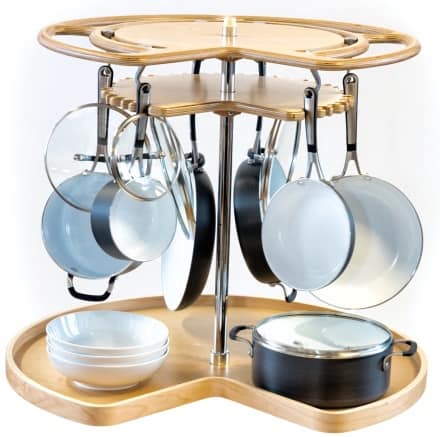 Lazy Susans that allow you to hang your pots and pans (and store lids) make it easy to spin and select your weapon of choice without having to stack and unstack cookware.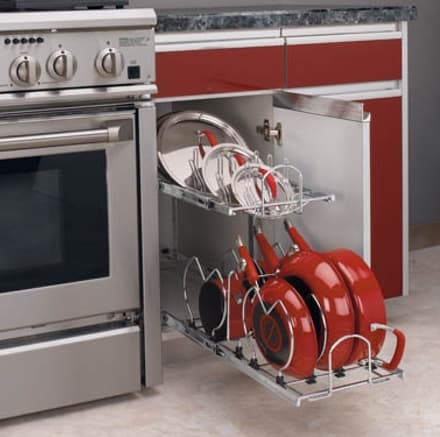 Multi-tier pull out units let you store your cookware and lids separately so you don't have to bend over and look inside the cabinet.
Or if you have deep drawers to store your pots in pans add a pegboard organizer that allows you to space dividers as needed.
There are even pull out units that have a simple track with hooks so you can hang all your pieces, slide out, select, and push it back in.
What you see here hasn't even scratched the surface. With all of the options available the possibilities are endless! Ask your HomeSquare specialist for help finding what products are right for you and installation. A few key organizational units can make you fall in love with your cabinets all over again!
Katie Canfield's design aesthetic is eclectic and flexible. She delights in the marriage between old and new- keeping spaces approachable but still matching each client's unique aesthetic and family narrative. Her passion for design keeps her motivated and constantly on the hunt for new trends and materials. Her broad experience includes an art history background, study at the Accademia Italiana in Florence, a stint with the renowned Manhattan firm Amanda Nisbet Design, as well as collaborations with builders and designers across the tri-state area. She's seen it all: from gutting prewar Manhattan apartments to new construction in the 'burbs.